Twani I
Well, owing to the rather chaotic and disorganized nature of peace work, my week in Suseya with the shepherds became four days in nearby Twani doing accompaniment for workers trying to build a small clinic. Twani is a little village in the southern West Bank that is the home of approximately 350 Palestinian men, women and children. It is near several Israeli settlements and outposts, the closest and largest being Ma'on, just on the hill above them. To get there from Hebron (which I believe under normal circumstances would have taken about a 20 minute drive on the highway), involved two vehicles, a long walk, and passing over a maksoum (dirt barriers that the Israeli Army used to block roads). It took us about an hours and a half.
Twani is a village with power only three or four hours each night when the town generator to switched on. The rest of the time the town lives without electricity. From what I saw there is no running water in the town and everyone sends their daughters and sons down to fetch water from the town wells or to the water truck that they pay each month to be delivered to the village. Right on the hill top above Twani is located Ma'on, a modern Israeli development with beautiful homes and all the typical municipal services. All Twani has are all the typical problems of a Palestinian village located near an Israeli settlement - housing demolitions, harassment, and land confiscation. Only a week or so before, settlers had come down to chop down an olive grove in the village and they threw dead chickens into one of the wells to poison it. The local school servers the village children as well as children from surrounding villages many of whom have long walks and donkey rides to arrive there in time for classes. But the school was built illegally, since the village could never get a permit for its construction. They paid a lot of money to Israeli lawyers to fight off a demolition order and won a five year reprieve. The school is now five years old and I was told the village was bracing itself for another costly court battle.
There were four of us that took the trip to Twani. Pierre Georgio and Christina from Operation Dove, an Italian faith-based organization, and Maia and myself from CPT. Upon our arrival, we were immediately taken to the town museum … it was actually the women's cooperative that had been set up just a few months prior. The walls were lined with traditional embroidered dresses and colorful sheep wool bags and rugs. Some where examples of changing styles that dated back to the 1940's. All were beautiful, intricately designed and a potential gold mine for the village if they could ever get over the seemingly insurmountable challenge of being cut off from the outside world. These are Palestinian West Bankers and for most of them getting to Jerusalem a little over an hour or so to the north, was as difficult as going to foreign land.
Two other Israeli peace groups breezed in - Ezra from Tay'ush and Arik from Rabbis for Human Rights. With concerted efforts we finally were informed that we would be doing accompaniment work in the village while they tried to build the town clinic. They needed internationals to run interference if the settlers decided to come down the hill or the soldiers came into town. Then Pierre Georgio, Ezra and Arik left, leaving only use women to do the work (ah, isn't it always the way!).
At first we were given a house to ourselves on the edge of town just beyond the school. I say house, but it was really more like two bare, concrete rooms with broken windows (this, minus the broken windows, is typical Twani construction, though there are older homes of stone block). We swept the place out and tried to set up shop, but unfortunately, the village children soon found us. It was cool for awhile to be the center of attention. The kids were great! But we quickly realized that for the 30 assorted children that had gathered around us, we were the best and only show in town. Maia was dog tired and wanted to sleep, so we shooed the children out, then we started pushing them out … well, then it became the attack of the gremlins. We were outnumbered and outgunned. It seemed like they were coming in waves!
I once remember being at a zoo in the U.S. and there was a beaver sleeping just inside its glass enclosure. A family came by and they all started beating on the glass and yelling trying to make the beaver wake up. Well, we were that beaver in Twani.
But, through some sort of magic (probably the call of their mothers), the children all disappeared at the same time and we were granted a few minutes respite before we were called to dinner at the home of Hafiz, one of two people in the village that spoke English. After hearing of our plight with the children, we were removed from the empty house and soon ensconced in Hafiz master bedroom (think concrete room with a big bed). We protested vociferously but to no avail.
Twani II

We spent the next two days hanging out with the family, taking walks and eating (we did bring food with us but were constantly worrying about the drain on the family resources that we were creating by our presence). There were delays in the construction of the clinic. The army had been by the previous week and stopped the clearing of the worksite. Now the villagers were having trouble finding people who were willing to come over from Yatta, the larger Palestinian town just to the north of us. Everyone was worried about the settlers and the soldiers. No one wanted to risk being detained or worse. By noon of the third day, still no work had been done, but an army patrol came into the village, circled above the olive groves south of the village and came back. Maia, Christina and I had, by this time, extricated ourselves from children and Arabic books, gotten our shoes on and were down on the road as they came back through town.
We must have been an unusual site for them … three women - one Italian, one African-American and me, European-American … in this poor Palestinian town. They pulled to a halt beside me and as they opened the door I said, "Shalom, is everything alright?"
There were four (as I recall) Israeli soldiers in an American-made Humvee and they just looked at me. Somewhat sullenly one replied, "What are you doing here?"
"We're visiting with people here in the village," I said. "But why are you here?"
"We're just checking things out."
"Well, it's pretty quiet." I said, "Are you sure everything is ok?"
The soldier I was talking to just nodded, shut the door and they drove off.
"Well, that went ok, I guess." I said to the dirt trail they kicked up. So we quietly went back to our pastime of playing with children, studying Arabic and hanging out. That night the work finally began and we helped were we could. There were no workers from Yatta but some equipment had arrived and a few of the local men started working on building the concrete forms for the clinic bathroom.
That night we were invited to the home of Ibrahim, the only other English-speaking villager in the town. We were warned by some of the workers that Ibrahim was … "a little weird."
Maia and Christina certainly didn't care. He had beer. Warm beer, but beer. In a dry town like Twani, it was a luxury for them. Ibrahim was probably considered "weird" by the other villagers because he was a bit more cosmopolitan them. He had lived in Tel Aviv for many years and had traveled somewhat. He owned houses in Yatta and Bethlehem he told us. He also has two wives. One in Yatta and the other (I wish I had caught her name) had made us a wonderful meal of kebabs and chicken stuffed with rice and nuts. The first substantial meat we had had since we arrived.
"Why are you in Twani?" we asked.
"My family has land here and a cave up in the hills (the south Hebron hills are known for their caves and cave dwellers)," he told us, "If my family is not on the land, I will lose it to the settlers."
Ibrahim told us that he worked in concrete construction. He was usually away in Jerusalem most of the week as his company had a special permit that allowed him to travel there. I asked him if he ever did construction work in the Israeli settlements. He strongly denied it but Hafiz later told me that Ibrahim was involved in building the Israeli "Security" Wall in the West Bank.
I can't be sure what the truth here is. This could have just been malicious gossip against a "weird" member of the community. But in the difficult economic situation that Palestinians face, I wouldn't have been surprised if this was true. Palestinians are often put in the position of helping to construct the very settlements and structures of the Occupation that keep them oppressed. It's all rather insidious.
Twani III

Our next day and my last was a little more interesting. We went to the worksite early (even before the village workers arrived). We sat waiting and ate almonds directly from the almond tree next to the worksite (hmmmm, the only way to eat almonds!). Two workers finally came and started working on the bathroom building again. The location of the worksite was in a hallow, so the road into town could not be seen. This had concerned me when I first saw the worksite and I soon realized for good reason. We had very little warning when the soldiers actually arrived. We were sitting around and suddenly heard a sound that was different from the sound of the village tractors that we were used to.
"Hmmm," Maia said, "that sounds like an army vehicle."
No sooner were the words out of her mouth than the workers literally dropped everything and made a mad dash out of the worksite. We were alone when only a short moment later the Israeli Humvee patrol drove into the worksite.
Again I spoke to them as Maia and Christina hung back and took pictures.
"Everything Ok?" I asked (my standard opening line), "Why are you guys here?"
The soldiers had stopped the Humvee and actually got out this time.
"We were told to check on some illegal building," said one soldier as they were looking around, obviously not very enthused about their task.
"What are you doing here?" one asked me.
"Well the villagers feel that they are being targeted and wanted some internationals here to see what is going on," I said and then asked, "If it's about illegal building, why are you here? Shouldn't it be the police that comes, not the army?
A soldier shrugged his shoulders and said nothing.
"I know the community wants to build a clinic here." I continued, "If someone gets hurt they can't drive on the highway to get help but have to walk 20 minutes up the path to the edge of Yatta and go see a doctor from there. They want to have a clinic here."
No response. Essentially the soldiers, ignoring us as much as possible, milled about for a few minutes in some kind of Chinese fire drill routine, then got back in and drove off.
Since Rosh Hashanah had begun, I knew I would find it difficult to get transportation up to Jerusalem where I had to travel next, so I had to leave after this incident with the soldiers.
I learned later that the villagers went back to work on the clinic, volunteers from Tay'ush even came out to help them, but the Army came back five times trying to stop the work. With the constant threat and interruption, the villagers decided to stop the work and see what legal proceedings they could pursue.
On my way back to Hebron, I sat on a Service (shared bus) with a Palestinian medical student who spoke very good English.
"Now with the recent bombings in Beersheba," he told me, "The Israelis are speeding up the process of building the wall in the southern West Bank. Places like Twani will be on the Israeli side of the wall. That's why they don't want them building anything. They intend to forcibly relocate the whole population of Twani and all the villages nearby to Yatta."
The route of the "Security" Wall in the southern West Bank is still open to debate but we have maps of the proposed route in the CPT office that clearly show Twani on the Israeli side. Perhaps the medical student was right in his prediction for Twani. I don't know. It could just be the worst case scenario. The Hebron CPT team is re-evaluating its future work in these villages, but the need for international observers remains great.
As for me, my time with the CPT Hebron team is up. I returned to Hebron, got cleaned up, said my goodbyes and was lucky enough to get one service out of town (we just had to circle around a bit and drive over a maksoum) that took me to Jerusalem. I spent a day or so there with a friend getting ready for the next leg of my trip. To Amman and back to Baghdad.
Addendum:
As I was leaving Israel (this time from the Sheik Hussain/Jordan River crossing in the north), the border official asked me, "Why didn't you have your passport stamped with the Israeli visa?"
Since many countries will deny you entry if you have an Israeli visa stamp in your passport, you can ask the border officials to stamp a separate piece of paper when you come in. This is what I had done. I explained to the border official that I might want to travel to other countries in the region and I didn't want to be rejected because of an Israeli visa stamp in my passport.
"There are no other countries around here worth seeing," the border official told me flatly.
Now for some pictures!

The village of Twani

Ma'on, The Israel Settlement above Twani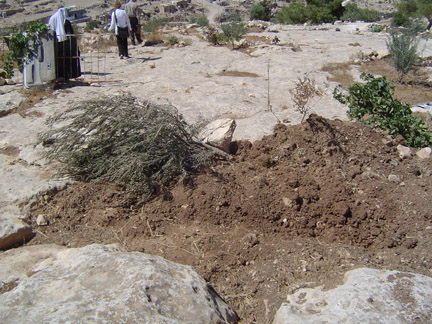 Uprooted Olive tree

Clinic building site

The Gremlins - (left to right) Malik, Hussain and Amir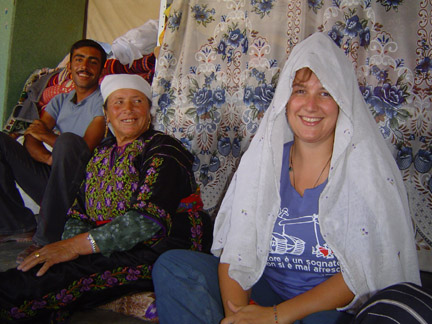 Christina (in bridal head gear) and friends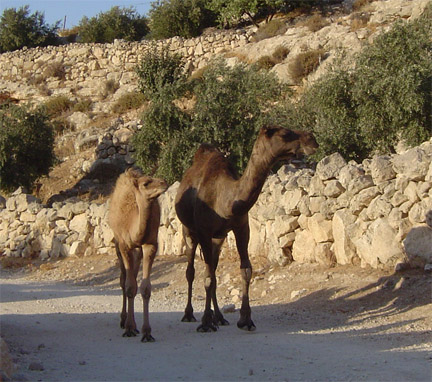 Camel in Twani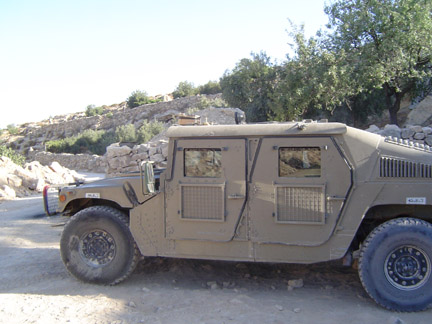 Israeli Patrol