Safely Arrived in Baghdad / Transportation Woes
I arrived in Baghdad the day before my residency in the country lapsed ... and now, two days later, I'm officially an illegal alien here ... my co-worker is trying to deal with getting my residency renewed but it's been difficult. The city is one huge traffic snarl ... it takes me 1 1/2 hours to get to work everyday (should only take about 20 minutes). It was made worse today because the Parliment is meeting and there are even more road closures. The road to work was closed by an American checkpoint, but fortunately we found another way in.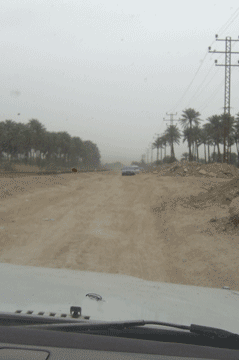 An alternative route to work - a railroad siding
People here are starting to get pissed off at their new government. As my old translator told me yesturday, "We took big risks to go to the polls and vote and since then we've seen the people we voted for accomplish nothing."
I included a Warden Message below from the U.S. Consul office in Baghdad that I recieved today to give you a little flavor of what's going on here.

WARDEN MESSAGE - April 5, 2005
This message is to update Americans resident in or visiting Iraq on
the security situation in Baghdad. The Iraqi National Assembly will meet
again on April 6th. There is an elevated risk of attacks by insurgents
trying to disrupt these proceedings. There will be additional
security patrols and checkpoints throughout the city and restricted access at
various venues.
In view of this security environment, travel by official personnel
will be restricted to travel for urgent official purposes only. Americans
resident in or visiting Iraq are advised to review their security
posture, avoid areas of potential targets, and be particularly mindful of
directions from security personnel. In case of emergency, please contact
the U.S. Embassy at 1-914-360-5828, 1-914-822-5493, or Iraqna 790 191
6166.
If you have security-related questions, please contact the Embassy
Regional Security Office's Tactical Operations Center at:
RSO_TOCBaghdad@state.gov


For the latest security information, Americans traveling abroad should
regularly monitor the Department's Internet web site at
http://travel.state.gov where the current Travel Warning for Iraq,
Worldwide Caution Public Announcement, Middle East and North Africa Public
Announcement, and other Travel Warnings and Public Announcements can be
found. Up to date information on security can also be obtained by
calling 1-888-407-4747 toll free in the United States, or, for callers
outside the United States and Canada, a regular toll line at
1-202-501-4444. These numbers are available from 8:00 a.m. to 8:00 p.m. Eastern
Time, Monday through Friday (except U.S. federal holidays).