My Boss Has Breezed Into Town ...
On another whirlwind visit of my boss to Amman (coinciding with a major Donor Conference for Iraq that is happening down at some posh Dead Sea Resort), I've been running around town again and super busy. Here's the list of latests activities: a meeting in my boss's apartment on the edge of town, another meeting with a Jordanian environmental group, another meeting to sign a UN Contract (one that I wrote on my own!), then on to another Jordanian enviro group to talk about doing a biodiversity study in Iraq in partnership with them, then on to a quick lunch of falafel and fool (beans)... now and then on the phone to set up meetings for the next day, then back home to send out a gizillion emails, do a little horsing around with my homies and get things ready for the next day!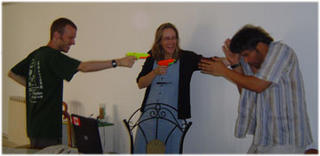 Here's a little image from the horsing around part .... I call it "The U.S. and it's British Sidekick Beating up on Iraqis ... Again!" All I can say is that he deserved it ... really!