Breaking the Ramadan Fast with KFC
It's been a busy month of running around for me since I've returned to Jordan. Had 12 Iraqis and 10 regional folks come for an environmental NGO (i.e. non-governmental organization) training (very well received from all the evaluations) ... I'll include a bit of the final report in my next email ... some of the comments are rather interesting.
After that I had three folks from work in Baghdad show up and we all went down to the Dana Nature Reserve two hours south of Amman ... Amazing place! It was a UN Environmental Program training on Biodiversity and Conservation. Nature-Iraq, my NGO, was represented as were several of the key ministries dealing with this issue in Iraq. We stayed at the RSCN's (Royal Society for the Conservation of Nature) wonderful lodge perched on the edge of the Wadi Dana (a wadi is a big ravine or gorge). I've attached some photos below.
Once we returned to Amman, it was the Ramadan and so I fasted with my Iraqi guests (just didn't seem nice to eat in front of them!) Unfortunately, they chose to break the fast with Kentucky Fried Chicken ... yeach! Why do all Iraqis wanna go there!?! I swear to god, they are pathelogical about it!!! Anyway, their gone and I'm now trying to catch up with all my other work (there is way too much of it right now).
My other housemates are gone ... one moved across town and the other to Australia ... I'm looking for new blood ... hopefully someone that is a bit cleaner than the last crew. If any men come knocking I'll have to remind them that although I am not their mother or their sister, I want them to keep the place clean to MY standards atleast. Is that too much to ask? Lordy, you'd think leaving the toilet seat up is hard-wired into their genes or somethin'!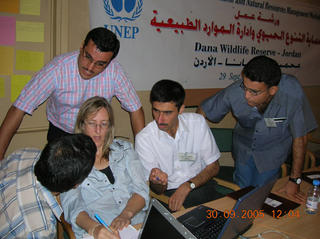 Sophia and the Kurdish Environmentalists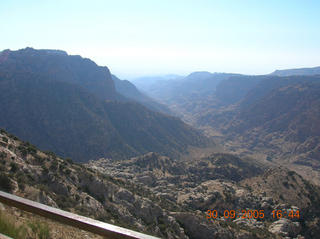 View from the Dana Reserve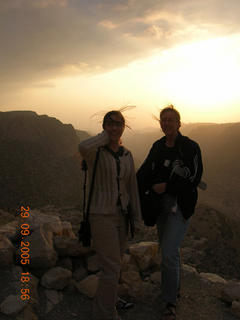 Sophia and friends