A visit to Maryhouse ... NYC, for a meeting with C.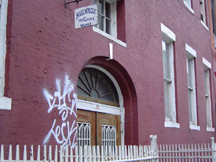 I have a daunting path before me and I feel that I'm going on it quite alone. C spent most of last year (pre-war, war, & occupation) living in Iraq. She is a wealth of knowledge and contacts, but she wont be able to return for quite awhile. She spent the evening trying to download everything she knew into my small and quite overwhelmed brain. I spent part of this morning, after leaving her, walking down to the World Trade Center Site ... it looks like a hugh construction site with various buildings encircling it in different states of repair. I didn't get a feel for the place until I walked into St. Paul's chapel nearby. It's filled with memorials. I sat in one of the pews for just a brief moment and felt the full weight of what I was about to embark upon.
Upon returning to L's home north of the city, I read a passage in Chronogram (2/04) written by Frank Crocitto. "You have to begin to distrust the glue that holds us in place - it's made up of lies, self-deception, the false picture we have of ourselves." Crocitto goes on to say that to free ourselves, we need to become literally "unglued" and that once you reach this state "you'll feel uncomfortable, on shaky ground, unable to hold yourself up anymore."
I have become "unglued" ... I think of it more as "floating" ... listening to C ... sitting in the pew at St. Paul's ... I could almost float away. But soon I know I'll come down hard and fast and I simply must hit the ground running.