Aqaba
Living in a city like Amman gets depressing after awhile ... the noise, the traffic, the seemingless endless miles of concrete ... I'm not really a city girl at heart. Recently I had the opportunity to travel to Aqaba and I jumped at the chance to get the heck out of the city. I had my first opportunity to go snorkeling there ... actually I've done it before in the Pacific Northwest but I didn't like it ... all that gear you had to wear to protect youself from the cold water made me claustrophobic ... but snorkeling on the Red Sea was a different matter. I loved it! ... especially since I used to work at an aqaurium and have seen hours of educational videos on coral reef ecosystems. Finally a chance to see these animals with my own eyes!
We had to go drive south of the city to find a nice private beach (at the public beaches in town a woman in a bathing suit would cause quite a stir ... the men around here don't get to see alot of naked female flesh). Also just south of town, right after the port, is the Jordan Marine Science Center and Aquarium. Of course, that warrented a stop. It is a small facility and looks a bit run down ... but the tanks were in good shape and the animals looked healthy. Unfortunately the educational posters they had, though colorful, were mostly in English and their tanks were not properly labeled.
In fact, the educational component seems to be almost completely lacking and there was no one there to do any interpretation. I kept thinking about how we ran things at the center back in the northwest ... and realized how important our volunteers were. Walking into a place like that without anyone to show you around and introduce you to these amazing animals is really a terrible waste and a missed opportunity.
And Jordan really needs to work on their public awareness as far as their environment goes. The other day I was walking in town along a road following the contours of a steep hill. Three guys were unloading the back of a pick-up truck full of garbage and just tossing it all over the edge of the road onto the steep hillside ... in broad daylight and no one around seemed in the least disturbed about it. I should have said something to them, but my lack of ability to curse someone out in Arabic for such behavior makes me too shy sometimes!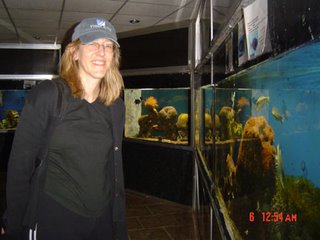 Anyway ... here are a few pictures from the Aquarium in Aqaba.