I passed out the graded tests to the students today ... whew, what a load off my shoulders ... Then I counted up the number of classes before the end of the term (in which I have to give them an oral exam) ... I've only got two more classes before I must test them AGAIN!!! I have over 100 students. Anyone got an idea on how you do an oral exam when you over over 100 students (four classes of 25 to 30 students per class actually) when each class is only 40 minutes???
Anyway, I'm taking a little rest from blogging ... tomorrow I move to a new place. The womens' housing at the University of Baghdad (Jadriyia campus ... I actually teach at Bab Mouadhem across town) ... tonight I pack and this weekend I rack my brains about how to do an oral exam for all of these students.
Note: On my written test I had a picture of Paul Bremer and another picture of the Iraqi police. I asked the students to tell me who the person (or people) in picture was, what they are doing and what they think of the pictures. Most of the students seemed to have no problem with this but two of the students wrote on the test that I should not have used these pictures and that though they liked me they felt that I had made a big mistake by putting these two pictures on the test.
Very interesting! Today I apologized if I offended anyone and explained that there would be no problem in the U.S. for using these pictures on a test, that I was perfectly happy with anything they wrote about the pictures (good or bad) ... as long as it was written in a correct and complete sentance (which is what I was grading them on) and that I used the pictures because I just wanted to know what they felt about them (Generally they said good things about the Police but their views on Mr. Bremer, the American ambassador to Iraq, were a tad bit mixed).
Ok, so here are a few pictures to tide you over until I do my next post.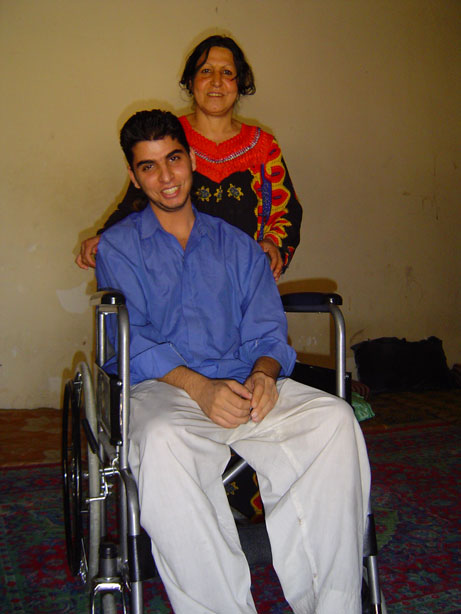 Um Ahmed and Ahmed in his spiffy new wheelchair!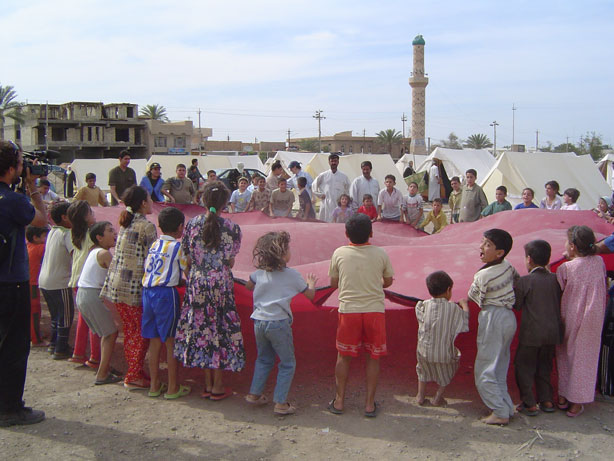 Playing parachute games with the kids from the Fallujah refugee camp in Baghdad (two days ago there were over 60 families at the camp).