Wall Tour
For the first day of our delegation, we went on a "Wall Tour" hosted by
ICAHD
, Israeli Committee Against Housing Demolition. As we went from one depressing site to another I kept thinking, "Hmmmm, maybe it wasn't such a good idea to go straight to Israel/Palestine right after Iraq."
Anyway, I'll just share some of the pictures from the day ...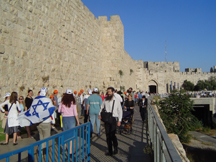 Israeli protest against removal of Gaza Settlements

Ras Al Amoud, basketball court on the left (the only recreational center for Palestinian kids in this area) was partially destroyed by the new Israeli Settlement on the right. There was about a 15 to 20 foot drop on the other side of this rather flimsy fence.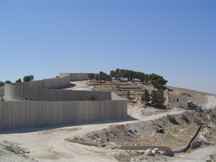 The Wall as it passes through Abu Dis, in East Jerusalem ... there is certainly no freeze in settlement building ... we saw plenty of evidence that building continues. There is a new settlement planned for this hill and the first building is already in place (house on the right side of the picture).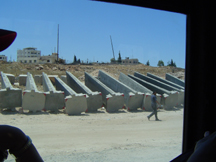 Getting ready to put up the Wall ... each segment is 9 meters high (which is higher than anything I ever saw in Iraq).
Allah and Palestine